01
Jun
2011
Searching for Perspective
|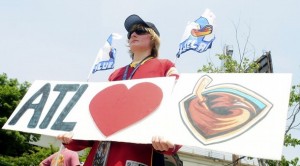 Click on BBC World News and remember that this is just a game. Look around your city and see those less fortunate. Contemplate for a minute that you could have a disease with no hope for a cure. Imagine the many, many things that would be worse than your city losing a hockey team.
That's what I did today. Yes, I spent about 15 minutes with tears in my eyes. Then I shook myself and (hard as it was to do) forced myself to acknowledge that it could be so much worse. What happened in Atlanta is very upsetting but, in the end, the sun will rise tomorrow.
Tomorrow, God willing, I will still have my family, my friends, my health. I will have a home to live in. There is no war in the streets. My city hasn't been destroyed by a tornado. There was no tsunami here. No nuclear meltdown. I have the freedom to choose what to do with my life. I have food on my table and money in my pocket. I am blessed with the leisure time to worry about such things as sporting events, where grown men play a child's game for a living. Though I feel like I've lost my best friend, the most important things in my life are real and unchanged.
I guess I have arrived at the last stage of the grieving process. I accept what has come to pass.
Don't get me wrong, I hate the idea of my Thrashers in Winnipeg. I hate that I will never get to take my daughter to a Thrashers game. I hate what the Atlanta (no)Spirit Group has done to the image of the city I love. But I will get over it. As goofy as it sounds to paraphrase Sting, I am going to do it anyway.
I love this team and I've been forced to set it free. Because I love the team, I have chosen to mentally release them, along with all of the anger and hurt. It's a relief. In so doing, I have realized I can remain a fan. This is still my team too. And, in spite of it all, I still believe in Blueland. I hope the people of Winnipeg will cherish this team and honor its past. I hope that fans in both cities will someday realize we were really fighting over the same thing. We all love hockey and, in the end, we are on the same team.
Photo: Thrashers fan from Reuters.